PIMP V.I.P BEAN BAG SOFA + OTTOMAN SET CHOC-O-HOLIC BROWN
$[for the set including free delivery] 179.00[for the set including free delivery]
43 in stock
DESCRiPTiON

Fabric Description: Deluxe Air Mesh Sponge Seating with Waterproof Nylon Outer Shell.
Get your chocolate fix without the calories with the new PiMP chocoholic VIP lounge set. You'll be Cherry Ripe for work or school after you sit on this chunky and lush bean bag and ottoman. A deep brown adds a two tone depth with the cushioned air mesh fabric, so just kick back with your Dr Dre's on and enjoy the rythm & soul of the lounge beats.
Get down with our VIP brown & funk up your Aussie Living Space with a bean bag set that you wont regret.
SHiPPiNG

We ship our awesome PiMP covers anywhere in Australia or NZ – even the crocodile infested outback. If you want our d-lux filling, due to keepin it real with uber size package prices, we can only supply to Metro Australian Capital Cities (except Canberra). If you're a beast of suburbia, then hit up our postcode checker to see if you can add beanbag filling + Funnelweb to your PiMP cover order.
FiLLiNG

Don't let your bag sag. Get some balls! You'll need about 300 lt. of beans to fill the sofa and 150 lt. of filling for the ottoman. You don't need to be a mathematical genius to work out you'll need 450 lt. for the set.
CHOC-O-HOLIC BROWN: PiCS, FEATURES & (FRiNGE) BENEFiTS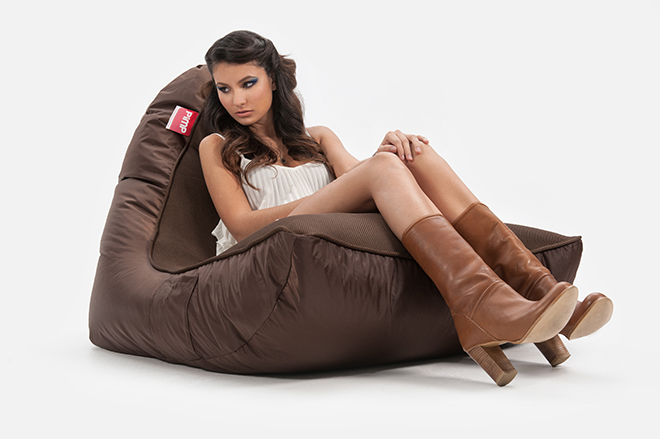 Turn your home into a V.I.P. lounge every night of the week. The Choc-O-Holic Brown bean bag VIP sofa and ottoman takes couch surfing and gaming to an uber level of comfort. With high back and head support, and 13oz 'real deal' vintage denim (for your butt), you won't want to move 'cause you'll be totally in the groove!
STRAP iT ON. SLiNG iT AROUND. GET CARRiED AWAY.
We're always on the move so why can't we have a portable PiMP VIP lounge? We added on a special feature that allows you to strap on your bean bag just like a backpack and move it to the garage, the living room, the garden, the local Pub or even take it camping.
CHiLL OUT! WE'VE GOT YOU COVER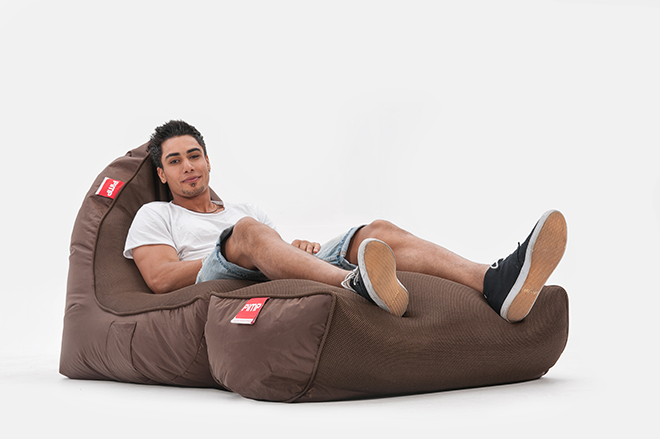 We've got it covered on all angles. The big wide booty area make our beanbags soft, cozy and inviting (stop staring guys!). Park yourself for the evening in VIP style. Don't take calls, don't cheek your inbox, don't even answer the door. The Sofa + ottoman is your ticket to jamaican style rest ….. Ain't dat right eh ma man!
THE PiMP MANiFESTO
PiMP bean bags take comfort to a ridiculously new level. With the air mesh system and elastic forces at work, sliding firmly into place, your whole body moulds like a Leonardo Da Vinci masterpiece into whatever position you care to lie or try.
DOUBLE H: HEALTHY AND HOT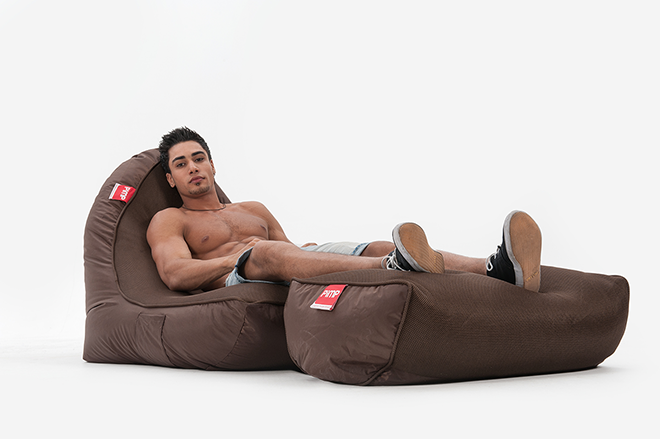 For those who are super laxy it gives you a full back support to sit you up straight better than you primary school grade 1 teacher but in the most relaxed possie possible. The ottoman is a must for full body weightlessness somewhat similar to that you last experienced while experimenting with strange mushrooms at university.
THERE'S MORE OF WHAT THIS BABY CAN DO!
CHECK IT OUT!